"I made a career out of my illness."
GAMIAN-Europe Quality of Life Blog Series
Fanni-Laura Mantyla is upbeat and optimistic. When she speaks, she does so openly about her challenging journey, exuding a sense of positivity that can only leave her listeners with a strong sense of hope and appreciation.
"I didn't plan to make my illness my career, but it's very nice that I can now help other people through my experience," said Fanni, a Finn in her early 30s, who works as a mental health advocate, both nationally and internationally.
Fanni got diagnosed with depression and burnout when she was 21. She was working as a teacher without formal training, but loved working with children.
"I was afraid that maybe the parents would not want me there since I was so young, so I should excel more so that they wouldn't start questioning this," she said. "This is how things got out of hand. I was very hard on myself, I was doing some things that were quite demanding and most demands I got were from myself because I didn't want anyone to doubt if I was good enough to be there." 
Even though from the outside everything looked nice — she had an apartment, was financially stable and was surrounded by friends and family — Fanni just couldn't stop thinking about work. She couldn't sleep. Her brain was buzzing with thoughts about what she could have messed up.
"Pretty soon it became unbearable," Fanni said. She began cutting herself to stop thinking about work.
She was in and out of the hospital shortly after. This lasted for about five years, during which she also tried electroconvulsive therapy, which didn't help, and a lot of different medication doctors prescribed to try to improve her state. 
"At some point, they just piled every medication on top of one another," said Fanni, who is also diabetic. "And then if there were some side effects, they piled another medication to help with those. So I was pretty drugged at some point."
Summertime was especially hard on Fanni.
"It was especially difficult just seeing all the expectations," she said. "Everyone needs to be happy and everyone is in their tank tops — and I had my arms cut so I couldn't do that."
What made things even more challenging for Fanni, was a strong feeling that she cannot open up to anyone about what she was going through. 
"I'm always the one helping others," she said. "I remember thinking that if I'm feeling so bad, if I tell anyone, they will also feel bad and I will be the one that has to make them feel better."
During her darkest moments, Fanni began writing poems, which she said helped her process her feelings better. During the times when she felt better, she sent her poems to some publishers.
"And just out of the blue, I got a book published with my poems," she recalls smiling. "That's when I realized I should tell people what's going on."
And so she did — and things started turning around, and her quality of life began improving.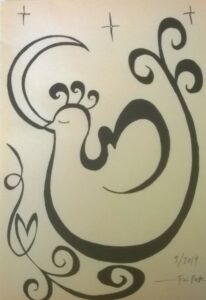 People asked her to share her stories with others, soon afterwards she was doing that on Finnish television and she was even featured in a documentary about young people and depression, paving the path for her advocacy work. There's even a fictional character in a Finnish TV series created based on her story.
"It was such a relief to talk about my issues, not to be afraid of being exposed, not to have to carry that anxiety in order to make everyone think that you're okay, even though you might not be okay," Fanni said.
That's also her main advice to others.
"Anyone could get sick," she said. "It's not about coming from a harsh background or a good background. Anyone can get sick, but you don't have to go through it by yourself. You can always ask for help."
And it's also okay that people cannot help you at all.
"It's important to know that people won't be broken by the fact that someone is feeling bad," Fanni said. "They might want to know more, but it's also okay that they can't do anything. Most people still want to stay by your side."
Fanni finds strength in her hardships. She would have never written poems, had it not been for her depression, she said.
"Now that I have gone through it, it's very good that I can take the positive out of it."